Watch Regime-Linked Cuban Accounts Publish Address, Home Photos in Threat to U.S. Pro-Democracy Activist – Latest News


An anonymous pro-communist Youtuber and social media commentator suspected of being an operative of Cuban State Security published the address and home photos of a prominent Cuban exile community leader – an attempt, that leader says, to intimidate him into silence by threatening his family.
"Guerrero Cubano" – or "Cuban Warrior" – is an anonymous commentator who uses American social media sites to spread pro-Castro regime messages around the world.
The account specializes in antagonizing Cubans both within and outside the island, both public figures and private individuals harassed for being insufficiently loyal to communism.
On Monday, the anonymous user's Twitter account published images of the home and the address of Orlando Gutiérrez-Boronat, the director of the Assembly of the Cuban Resistance, an umbrella organization that unites dissident groups on and off the island.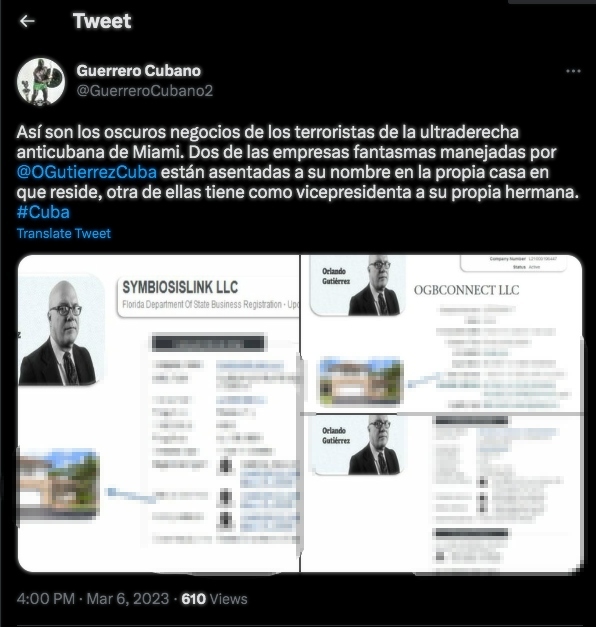 The individual also posted the private information on his Facebook account. A representative for Meta, Facebook's parent company, confirmed on Friday that the "Guerrero Cubano" account, the latest iteration on that site after being repeatedly shut down for violating terms of use, had been removed following the latest infraction.
Gutiérrez-Boronat is a prominent Miami-based activist against the Cuban government and has launched campaigns against, among other policies, allowing American cruise lines to use stolen Cuban harbors for business and allowing Cuban intelligence activities in the United States. He is a contributor to Breitbart News.
The official newspaper of the Communist Party of Cuba, Granma, has for years referred to Gutiérrez-Boronat as a "terrorist" for supporting pro-democracy movements on the island and calling for the liberation of Cuba's political prisoners. Cuba is a U.S.-designated state sponsor of terrorism whose place on the State Department list was renewed most recently under leftist President Joe Biden last month.
Gutiérrez-Boronat appears to have caught the eye of the anonymous user after the Assembly for the Cuban Resistance organized a protest against the presence of the Cuban ambassador to Washington, Lianys Torres Rivera, and other regime operatives, in Tampa, Florida. "Guerrero Cubano" referred to Gutiérrez-Boronat as an "abuser of women" in his latest Youtube video on the subject in response to the protest, despite its inherently peaceful nature and the fact that Gutiérrez-Boronat was not there.
The Assembly was also far from the only entity expressing disgust with Torres's visit, which prompted near-universal scorn in the state.
"I think they should go back to Cuba where they belong," Florida Governor Ron DeSantis said when asked about her presence in his state, calling the Cuban regime itself a "crime against humanity."
"Guerrero Cubano," in addition to accusing Gutiérrez-Boronat of "abuse of women" for his organization's peaceful protest, referred to him as a "corrupt" "terrorist" in a post on Twitter showing images of his home and his address. The post is currently publicly available still at press time. Attempts to contact Twitter via email and telephone by Breitbart News were unsuccessful.
The regime-linked social media commentator intensified his attacks in a video blog on Youtube published on Wednesday that remains on the site at press time. In the video, "Guerrero Cubano" did not reproduce Gutiérrez-Boronat's address, but published what he claimed were new photos of the house that he himself took while stalking it.
"You made a big mess in Miami and you even have police vigilance now. Boro, chill out," the anonymous user said. "Yesterday evening, I was in front of your house. Boro, the police and FBI know that you are a coward bandit. Look at this, yesterday afternoon, there is nobody in that neighborhood."
The user goes on to imply that he has been "living in" the activist's home and "making friends with a lot of good people in [his] neighborhood." He also goes on to make crude insinuations about Gutiérrez-Boronat's marriage, including implying that he, "Guerrero Cubano," has an untoward relationship with the activist's wife and has been stalking the hotel the activist is using for an alleged "affair."
The user also makes clear this his goal is to inspire fear, asserting with relish that Gutiérrez-Boronat has "not slept in three days" and suggesting herbal remedies for stress.
A Youtube representative confirmed to Breitbart News on Friday that the company is investigating the case.
Speaking to Breitbart News, Gutiérrez-Boronat emphasized that the situation is of greater importance to the United States than just his individual case, as it is potentially a case of a foreign dictatorship threatening Americans in an attempt to silence speech that violates the dictatorship's draconian laws, essentially enforcing foreign speech codes on Americans.
"The moment that a totalitarian regime can directly threaten U.S. citizens living on U.S. soil is the very moment that freedom for all Americans begins to be progressively lost," Gutiérrez-Boronat said.
Multiple reports have identified "Guerrero Cubano" as being part of Cuba's State Security, its repressive apparatus to silence dissent. In December, a defecting Ministry of Intelligence official, Ernesto Alemán, identified the user behind "Guerrero Cubano" as Cuban Colonel Pedro Orlando Martínez Fernández, the head of the Political Organ of the General Directorate of the National Revolutionary Police, in an interview.
Martínez is a "specially designated person," under the Office of Foreign Assets Control, sanctioned by the U.S. government for his ties to the regime.
"Guerrero Cubano" lost his Facebook account last October in a purge of propaganda accounts tied to the Cuban government. Meta confirmed on Friday that his removal this week was linked to that removal. The individual has also had his Twitter account suspended at least twice. His Youtube account has been shut down as least three times: twice by 2020 and again a year ago in March for violating terms of use against bullying.
Despite this, "Guerrero Cubano" has an active presence on Facebook, Twitter, and Youtube at press time.
Follow Frances Martel on Facebook and Twitter.