Watch latest Google Australia Top Trends breaking news headlines online


US President Joe Biden, who holds the title of America's oldest-serving leader, has turned 81. 
Key points:
Mr Biden's birthday fell on the same day the White House marked the beginning of the US holiday season
Most respondents to a recent Reuters/Ipsos poll said Mr Biden was too old to be president
His team responded by saying he should be judged on his record, not his age
Mr Biden's birthday fell on the same day as the ceremonial pardoning of turkeys — a Thanksgiving tradition that marks the beginning of the holiday season in the US. 
He pardoned two turkeys — one called Liberty, the other called Bell.
They'll live out their days at the University of Minnesota's College of Food, Agricultural and Natural Resources Sciences.
Turkeys are traditionally the centrepiece of the American holiday meal.
In a tradition the White House Historical Association says dates back to 1947, a turkey (or turkeys) is presented to the office of the US president.
And, since the latter half of the 20th century, these turkeys are ceremonially spared from the fate of being cooked and served up on a dinner plate. 
This year, that ceremony happened to fall on Mr Biden's birthday. 
He cracked jokes about his age during the ceremony, saying to a laughing audience: "I just want you to know it's difficult turning 60." 
"It is the 76th anniversary of this event and I want you to know I wasn't there for the first one," Mr Biden said. 
"I was too young to make it up."
Born in 1942, Mr Biden would have been just five years old.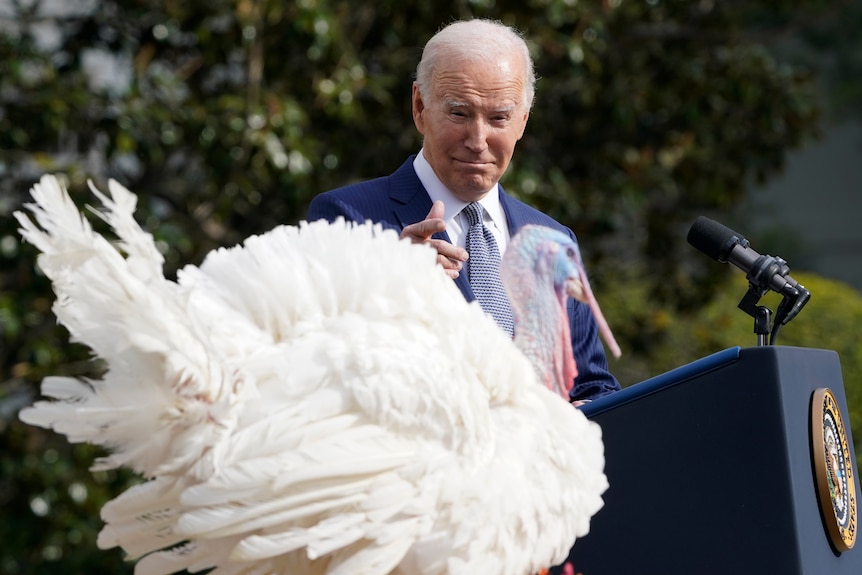 Voters concerned about Biden's age
Two months ago, an opinion poll showed Americans were worried he's too old to lead the nation as president. 
Seventy-seven per cent of respondents in the Reuters/Ipsos poll said Mr Biden was too old for the top job.
In a separate question, 39 per cent said Mr Biden was "mentally sharp enough for the presidency".
Let's compare the Democratic president's score to Republican presidential hopeful Donald Trump, who is currently 77 years old. 
In that same group of survey respondents, 56 per cent said Mr Trump was too old to be president. 
And 54 per cent thought he was "mentally sharp enough" for the role. 
When Mr Biden's press secretary Karine Jean-Pierre was asked about the poll results, she said he should be judged on his record, not his age.
"Our perspective is that it's not about age, it's about the president's experience," Ms Jean-Pierre said.
"We have to judge him by what he's done, not by his numbers."
Mr Biden holds the record as the oldest US president and, if he's re-elected next year, would be 86 by the end of his second term. 
Before him, Ronald Reagan held the record — he was 77 when his second term ended in 1989.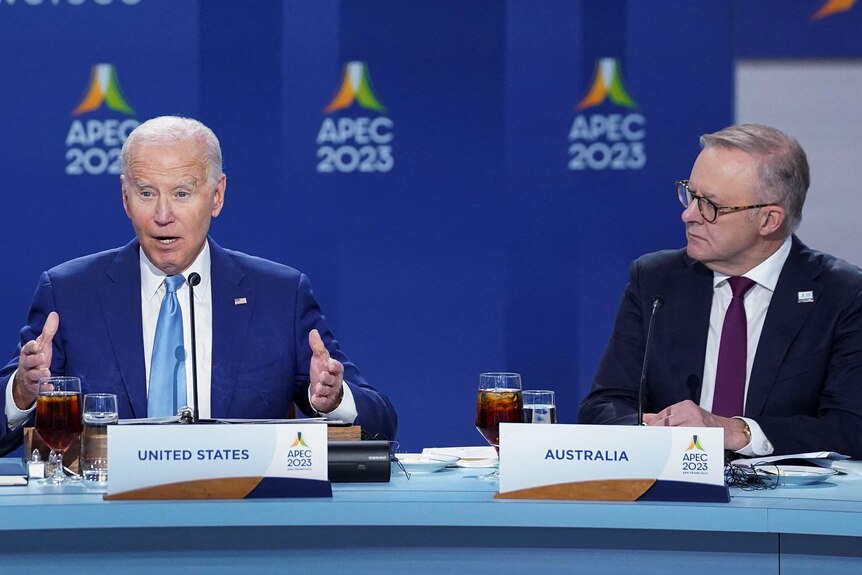 President mixes up pop culture references 
When introducing Liberty and Bell, Mr Biden said they'd achieved something big by being selected. 
"You could say it's even harder than getting a ticket to the Renaissance tour or … Britney's tour .. she's down at … it's kind of warm in Brazil right now," he said. 
The Renaissance tour was the name of pop singer Beyonce's series of concerts this year, for which there was a lot of demand for tickets. 
The president appeared to mix up Britney Spears with Taylor Swift in his second quip about "Britney's tour".
Britney Spears, a pop icon from the 90s and early 2000s, recently made headlines for the release of her tell-all memoir. 
Swift's recent concerts — the Eras Tour — made news when ticket retailers were overwhelmed by the demand from fans. 
The Eras Tour is currently in Brazil, which is experiencing extreme heat. 
On Friday, 23-year-old Swift fan Ana Clara Benevides Machado died before the show. Rio's Municipal Health Department said she experienced cardiorespiratory arrest.
Swift went on to postpone Saturday night's concert.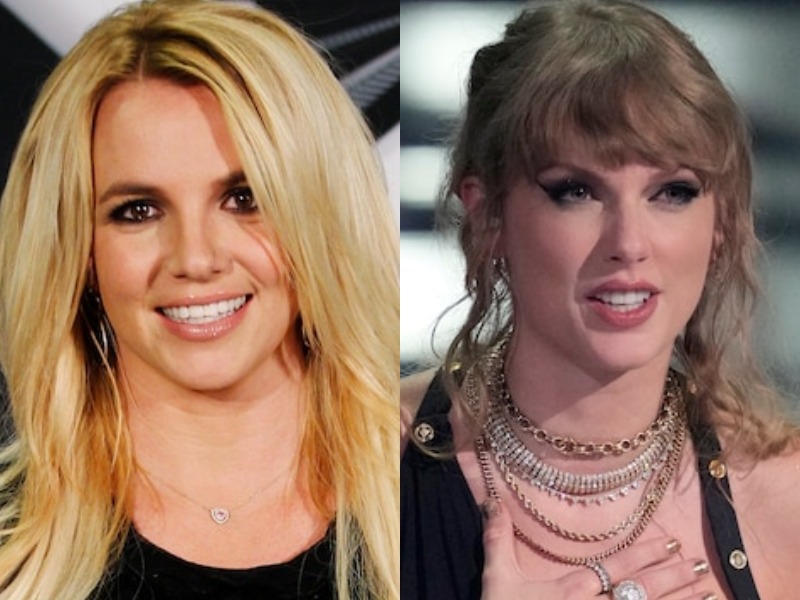 When is Thanksgiving?
Thanksgiving always falls on the fourth Thursday of November. 
This year, that's November 23. 
What is Thanksgiving? 
It's a public holiday in the US.
Typically, it includes families and friends gathering for a meal and sharing their gratitude for the good things in their lives. 
It started off in 1789, when the first US president, George Washington, declared November 26 — a Thursday — "a day of public thanksgiving and prayer".
People's celebrations can have religious elements, but the holiday has morphed into more of a cultural, non-denominational event for Americans. 
Why does the US president 'pardon' a turkey?
It's really just a fun photo opportunity for the president of the day. 
Essentially, there's what's known as "the national Thanksgiving turkey" which is presented to the president, who then "pardons" it.  
"The national turkey presentation and pardon marks the unofficial start of the holiday season," Mr Biden said. 
"A time to share joy and gratitude and have a little bit of fun."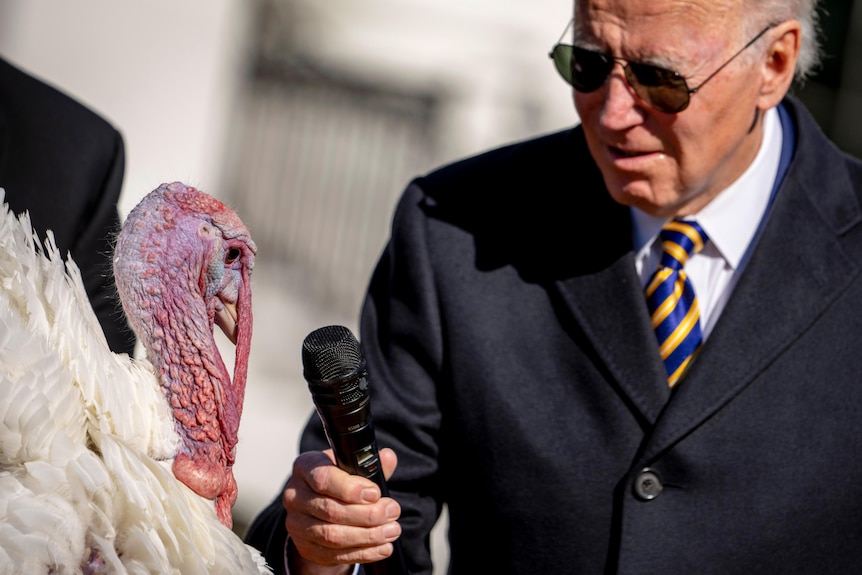 But there's a bit of debate about how the tradition came to be.
The White House Historical Association says there's one rumour that it started with Abraham Lincoln granting clemency to a turkey in 1895, but the organisation is doubtful of this. 
It points out that the presentation of turkeys as gifts to the White House — the American presidential residence — can be traced back to the 1870s.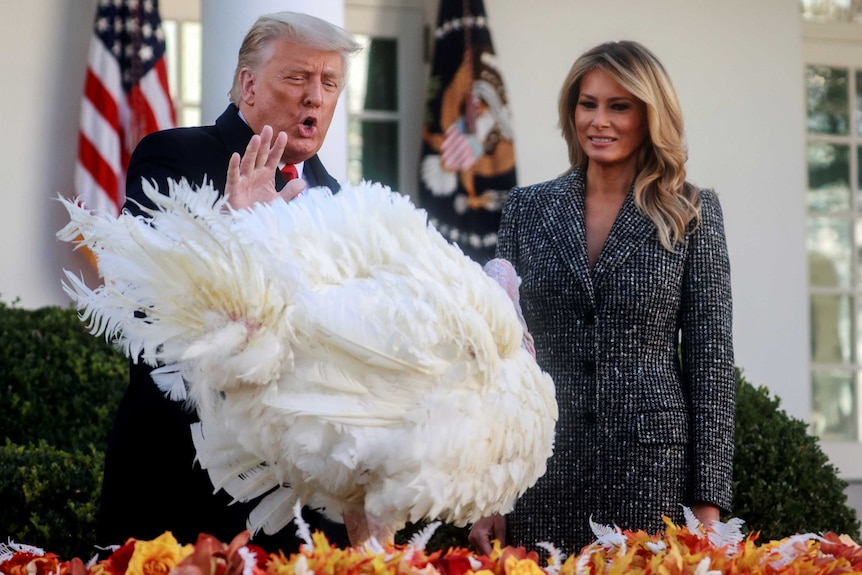 Another rumour is that Harry S Truman started the "pardoning" tradition, but that's just because he was the first president to receive a turkey from the Poultry and Egg National Board and the National Turkey Federation in 1947. 
This "established an annual news niche that endures today" the association's website says, with the federation presenting the White House with a turkey each year — something that would have been closer to a photo opportunity than an official government ceremony. 
However, the Harry S Truman Library and Museum says Mr Truman didn't actually spare that historical turkey. 
"The Library's staff has found no documents, speeches, newspaper clippings, photographs, or other contemporary records in our holdings which refer to Truman pardoning a turkey that he received as a gift in 1947, or at any other time during his presidency," its website says. 
In 1963, president John F Kennedy apparently pardoned the national Thanksgiving turkey when he said: "Let's keep him going." 
In 1973, president Richard Nixon's wife Patricia Nixon sent the bird the White House was given that year to the Oxon Hill Children's Farm. 
And in 1978, president Jimmy Carter's wife Rosalynn Carter sent that year's bird to live in a mini zoo at Evans Farm Inn.
By the time Mr Reagan was president, sending the presentation turkey to live on a farm was the done thing. 
But it didn't become the humorous ceremonial tradition we see today until George H Bush became president, the White House Historical Association says.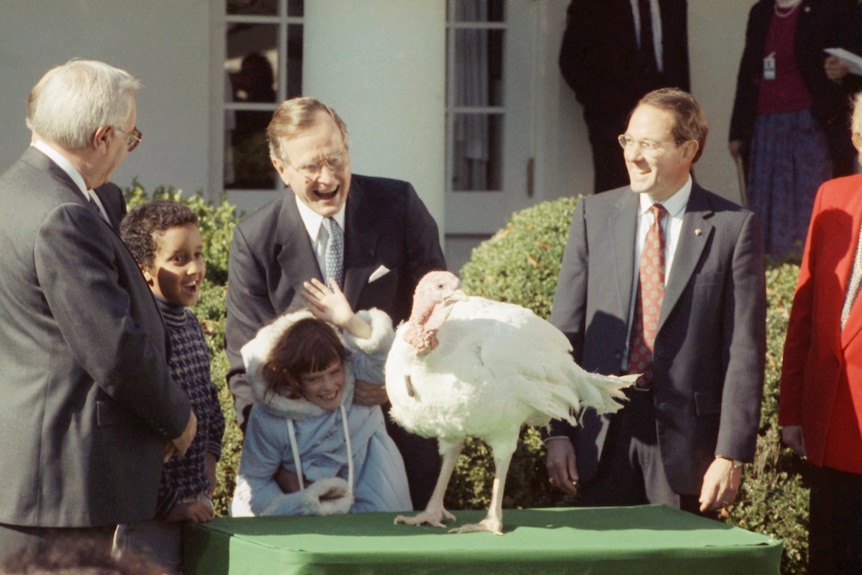 The association pins the tradition on the following quote from Mr Bush in 1989:
"But let me assure you, and this fine tom turkey, that he will not end up on anyone's dinner table, not this guy —he's presented a presidential pardon as of right now —and allow him to live out his days on a children's farm not far from here."
Since then, there's been an official pardon every year. 
Typically the turkeys are given patriotic or humorous names, such as Courage and Drumstick or are presented as a pair so they can be given matching names like Chocolate and Chip.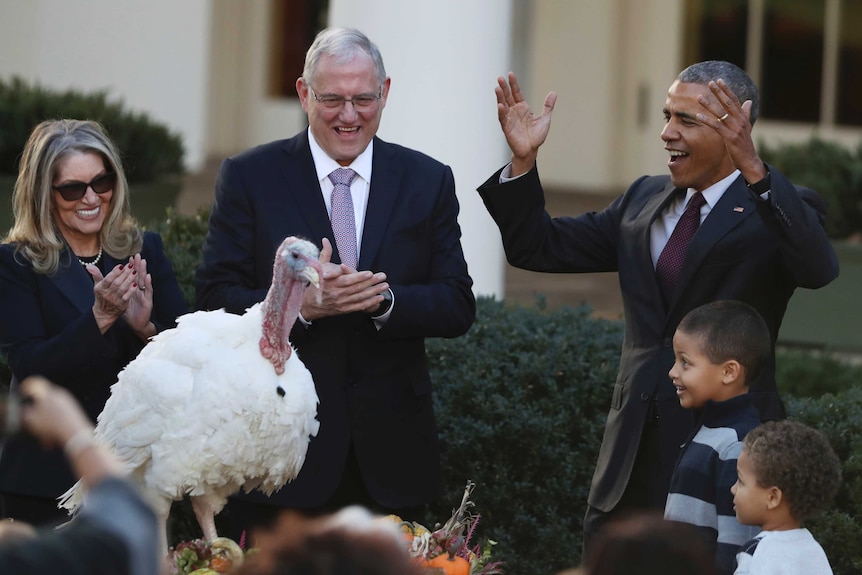 We update regularly World Latest Breaking Business News here. We update 2023-11-21 08:26:50 this news story from official website – https://www.abc.net.au/news/2023-11-21/us-president-joe-biden-pardons-thanksgiving-turkey-on-birthday/103129738."

World News Popular Search: #Joe #Biden #jokes #age #pardoning #turkeys #81st #birthday

World News – Watch today's latest breaking news from World. We update all latest news headlines for Business, Money, Technology, Politics, Entertainment, Education, Science & health and more topics.

Read More Latest US News Headlines!
Latest International News Headlines!
USA | UK | Australia | Russia | Canada | New Zealand | India | Sweden | Switzerland | Argentina | Germany
Watch latest breaking news from U.S. and around the world. Check out today latest news live updates with videos, photos. Get current news stories from business, politics, sports, entertainment, tech, education and more.