Watch latest Google Australia Top Trends breaking news headlines online


Wales are doing all they can. Croatia, leading against Armenia, aren't playing ball. As things stand, it's Croatia and Wales who'll qualify automatically from Group D; Wales will be heading to the play-offs in March.

","elementId":"b133dbee-fd8b-4f6e-84c7-0cb06973de8c"}],"attributes":{"pinned":false,"keyEvent":true,"summary":false},"blockCreatedOn":1700598972000,"blockCreatedOnDisplay":"20.36 GMT","blockLastUpdated":1700599033000,"blockLastUpdatedDisplay":"20.37 GMT","blockFirstPublished":1700599034000,"blockFirstPublishedDisplay":"20.37 GMT","blockFirstPublishedDisplayNoTimezone":"20.37″,"title":"HALF TIME: Wales 1-0 Turkey","contributors":[],"primaryDateLine":"Tue 21 Nov 2023 20.37 GMT","secondaryDateLine":"First published on Tue 21 Nov 2023 18.30 GMT"},{"id":"655d0ace8f0858ab7b6f1f38″,"elements":[{"_type":"model.dotcomrendering.pageElements.TextBlockElement","html":"

They'll be more than happy with it now! Wilson turns into a little space down the middle and sprays a pass wide left for Williams, who drops a shoulder to stride infield. He opens up his body and steers an unstoppable curler into the bottom right! It's on!

","elementId":"318f6c84-ad9d-4142-bd2c-9d043fe97b83″},{"_type":"model.dotcomrendering.pageElements.ImageBlockElement","media":{"allImages":[{"index":0,"fields":{"height":"1883″,"width":"2936″},"mediaType":"Image","mimeType":"image/jpeg","url":" Williams of Wales scores the team's first goal.","caption":"Neco Williams of Wales scores the team's first goal.","credit":"Photograph: Ryan Pierse/Getty Images"},"displayCredit":true,"role":"inline","imageSources":[{"weighting":"inline","srcSet":[{"src":"https://i.guim.co.uk/img/media/2885734ab295a11aad9e491ff97fa75d71b09428/0_0_2936_1883/master/2936.jpg?width=620&quality=85&auto=format&fit=max&s=661f20f70042a25e20fa06d40c67c5c6″,"width":620},{"src":"https://i.guim.co.uk/img/media/2885734ab295a11aad9e491ff97fa75d71b09428/0_0_2936_1883/master/2936.jpg?width=620&quality=45&auto=format&fit=max&dpr=2&s=82e9c14d151ee7d640d2b58ddabc9a7a","width":1240},{"src":"https://i.guim.co.uk/img/media/2885734ab295a11aad9e491ff97fa75d71b09428/0_0_2936_1883/master/2936.jpg?width=605&quality=85&auto=format&fit=max&s=40d4ffcf8ba114a936b2b86828217faa","width":605},{"src":"https://i.guim.co.uk/img/media/2885734ab295a11aad9e491ff97fa75d71b09428/0_0_2936_1883/master/2936.jpg?width=605&quality=45&auto=format&fit=max&dpr=2&s=0a2f01753c3a434168c02a3fc54a1c32″,"width":1210},{"src":"https://i.guim.co.uk/img/media/2885734ab295a11aad9e491ff97fa75d71b09428/0_0_2936_1883/master/2936.jpg?width=445&quality=85&auto=format&fit=max&s=a9258e7f3c29b977b5c52ba4b5b3864a","width":445},{"src":"https://i.guim.co.uk/img/media/2885734ab295a11aad9e491ff97fa75d71b09428/0_0_2936_1883/master/2936.jpg?width=445&quality=45&auto=format&fit=max&dpr=2&s=3afafd74108108e91b30ae94629d993c","width":890}]},{"weighting":"thumbnail","srcSet":[{"src":"https://i.guim.co.uk/img/media/2885734ab295a11aad9e491ff97fa75d71b09428/0_0_2936_1883/master/2936.jpg?width=140&quality=85&auto=format&fit=max&s=d1f6bf1663043a276a29a1a542602d18″,"width":140},{"src":"https://i.guim.co.uk/img/media/2885734ab295a11aad9e491ff97fa75d71b09428/0_0_2936_1883/master/2936.jpg?width=140&quality=45&auto=format&fit=max&dpr=2&s=9cacd03ce757696f50f1570ef33c3271″,"width":280},{"src":"https://i.guim.co.uk/img/media/2885734ab295a11aad9e491ff97fa75d71b09428/0_0_2936_1883/master/2936.jpg?width=120&quality=85&auto=format&fit=max&s=73b8a77d3878138dc5d7cf638dc3fb11″,"width":120},{"src":"https://i.guim.co.uk/img/media/2885734ab295a11aad9e491ff97fa75d71b09428/0_0_2936_1883/master/2936.jpg?width=120&quality=45&auto=format&fit=max&dpr=2&s=74991adc2963d619f7514a58e8501b6e","width":240}]},{"weighting":"supporting","srcSet":[{"src":"https://i.guim.co.uk/img/media/2885734ab295a11aad9e491ff97fa75d71b09428/0_0_2936_1883/master/2936.jpg?width=380&quality=85&auto=format&fit=max&s=e686bb58023e488f500d5596414c045f","width":380},{"src":"https://i.guim.co.uk/img/media/2885734ab295a11aad9e491ff97fa75d71b09428/0_0_2936_1883/master/2936.jpg?width=380&quality=45&auto=format&fit=max&dpr=2&s=1c4788c0eda857d67d29985b821e6cb8″,"width":760},{"src":"https://i.guim.co.uk/img/media/2885734ab295a11aad9e491ff97fa75d71b09428/0_0_2936_1883/master/2936.jpg?width=300&quality=85&auto=format&fit=max&s=2f5627bf9699b208ca0d83fd12847845″,"width":300},{"src":"https://i.guim.co.uk/img/media/2885734ab295a11aad9e491ff97fa75d71b09428/0_0_2936_1883/master/2936.jpg?width=300&quality=45&auto=format&fit=max&dpr=2&s=def5405856cc36d471b94d27e9d45320″,"width":600},{"src":"https://i.guim.co.uk/img/media/2885734ab295a11aad9e491ff97fa75d71b09428/0_0_2936_1883/master/2936.jpg?width=620&quality=85&auto=format&fit=max&s=661f20f70042a25e20fa06d40c67c5c6″,"width":620},{"src":"https://i.guim.co.uk/img/media/2885734ab295a11aad9e491ff97fa75d71b09428/0_0_2936_1883/master/2936.jpg?width=620&quality=45&auto=format&fit=max&dpr=2&s=82e9c14d151ee7d640d2b58ddabc9a7a","width":1240},{"src":"https://i.guim.co.uk/img/media/2885734ab295a11aad9e491ff97fa75d71b09428/0_0_2936_1883/master/2936.jpg?width=605&quality=85&auto=format&fit=max&s=40d4ffcf8ba114a936b2b86828217faa","width":605},{"src":"https://i.guim.co.uk/img/media/2885734ab295a11aad9e491ff97fa75d71b09428/0_0_2936_1883/master/2936.jpg?width=605&quality=45&auto=format&fit=max&dpr=2&s=0a2f01753c3a434168c02a3fc54a1c32″,"width":1210},{"src":"https://i.guim.co.uk/img/media/2885734ab295a11aad9e491ff97fa75d71b09428/0_0_2936_1883/master/2936.jpg?width=445&quality=85&auto=format&fit=max&s=a9258e7f3c29b977b5c52ba4b5b3864a","width":445},{"src":"https://i.guim.co.uk/img/media/2885734ab295a11aad9e491ff97fa75d71b09428/0_0_2936_1883/master/2936.jpg?width=445&quality=45&auto=format&fit=max&dpr=2&s=3afafd74108108e91b30ae94629d993c","width":890}]},{"weighting":"showcase","srcSet":[{"src":"https://i.guim.co.uk/img/media/2885734ab295a11aad9e491ff97fa75d71b09428/0_0_2936_1883/master/2936.jpg?width=860&quality=85&auto=format&fit=max&s=39beaf74cac38c540e5614970c749ca9″,"width":860},{"src":"https://i.guim.co.uk/img/media/2885734ab295a11aad9e491ff97fa75d71b09428/0_0_2936_1883/master/2936.jpg?width=860&quality=45&auto=format&fit=max&dpr=2&s=15cfa146cae1e0f78120ab4c42ab4baf","width":1720},{"src":"https://i.guim.co.uk/img/media/2885734ab295a11aad9e491ff97fa75d71b09428/0_0_2936_1883/master/2936.jpg?width=780&quality=85&auto=format&fit=max&s=162c74d2091563195fe912b9166ba7de","width":780},{"src":"https://i.guim.co.uk/img/media/2885734ab295a11aad9e491ff97fa75d71b09428/0_0_2936_1883/master/2936.jpg?width=780&quality=45&auto=format&fit=max&dpr=2&s=048042f6e40cf0ea88470b5f276c8fc8″,"width":1560},{"src":"https://i.guim.co.uk/img/media/2885734ab295a11aad9e491ff97fa75d71b09428/0_0_2936_1883/master/2936.jpg?width=620&quality=85&auto=format&fit=max&s=661f20f70042a25e20fa06d40c67c5c6″,"width":620},{"src":"https://i.guim.co.uk/img/media/2885734ab295a11aad9e491ff97fa75d71b09428/0_0_2936_1883/master/2936.jpg?width=620&quality=45&auto=format&fit=max&dpr=2&s=82e9c14d151ee7d640d2b58ddabc9a7a","width":1240},{"src":"https://i.guim.co.uk/img/media/2885734ab295a11aad9e491ff97fa75d71b09428/0_0_2936_1883/master/2936.jpg?width=605&quality=85&auto=format&fit=max&s=40d4ffcf8ba114a936b2b86828217faa","width":605},{"src":"https://i.guim.co.uk/img/media/2885734ab295a11aad9e491ff97fa75d71b09428/0_0_2936_1883/master/2936.jpg?width=605&quality=45&auto=format&fit=max&dpr=2&s=0a2f01753c3a434168c02a3fc54a1c32″,"width":1210},{"src":"https://i.guim.co.uk/img/media/2885734ab295a11aad9e491ff97fa75d71b09428/0_0_2936_1883/master/2936.jpg?width=445&quality=85&auto=format&fit=max&s=a9258e7f3c29b977b5c52ba4b5b3864a","width":445},{"src":"https://i.guim.co.uk/img/media/2885734ab295a11aad9e491ff97fa75d71b09428/0_0_2936_1883/master/2936.jpg?width=445&quality=45&auto=format&fit=max&dpr=2&s=3afafd74108108e91b30ae94629d993c","width":890}]},{"weighting":"halfwidth","srcSet":[{"src":"https://i.guim.co.uk/img/media/2885734ab295a11aad9e491ff97fa75d71b09428/0_0_2936_1883/master/2936.jpg?width=620&quality=85&auto=format&fit=max&s=661f20f70042a25e20fa06d40c67c5c6″,"width":620},{"src":"https://i.guim.co.uk/img/media/2885734ab295a11aad9e491ff97fa75d71b09428/0_0_2936_1883/master/2936.jpg?width=620&quality=45&auto=format&fit=max&dpr=2&s=82e9c14d151ee7d640d2b58ddabc9a7a","width":1240},{"src":"https://i.guim.co.uk/img/media/2885734ab295a11aad9e491ff97fa75d71b09428/0_0_2936_1883/master/2936.jpg?width=605&quality=85&auto=format&fit=max&s=40d4ffcf8ba114a936b2b86828217faa","width":605},{"src":"https://i.guim.co.uk/img/media/2885734ab295a11aad9e491ff97fa75d71b09428/0_0_2936_1883/master/2936.jpg?width=605&quality=45&auto=format&fit=max&dpr=2&s=0a2f01753c3a434168c02a3fc54a1c32″,"width":1210},{"src":"https://i.guim.co.uk/img/media/2885734ab295a11aad9e491ff97fa75d71b09428/0_0_2936_1883/master/2936.jpg?width=445&quality=85&auto=format&fit=max&s=a9258e7f3c29b977b5c52ba4b5b3864a","width":445},{"src":"https://i.guim.co.uk/img/media/2885734ab295a11aad9e491ff97fa75d71b09428/0_0_2936_1883/master/2936.jpg?width=445&quality=45&auto=format&fit=max&dpr=2&s=3afafd74108108e91b30ae94629d993c","width":890}]},{"weighting":"immersive","srcSet":[{"src":"https://i.guim.co.uk/img/media/2885734ab295a11aad9e491ff97fa75d71b09428/0_0_2936_1883/master/2936.jpg?width=1900&quality=85&auto=format&fit=max&s=e9265eb3eecfcc46855db71dd21ac689″,"width":1900},{"src":"https://i.guim.co.uk/img/media/2885734ab295a11aad9e491ff97fa75d71b09428/0_0_2936_1883/master/2936.jpg?width=1900&quality=45&auto=format&fit=max&dpr=2&s=b6dd46147ca952c0512d41a7289e1875″,"width":3800},{"src":"https://i.guim.co.uk/img/media/2885734ab295a11aad9e491ff97fa75d71b09428/0_0_2936_1883/master/2936.jpg?width=1300&quality=85&auto=format&fit=max&s=7d954c64d7dcccdac93895efb422f693″,"width":1300},{"src":"https://i.guim.co.uk/img/media/2885734ab295a11aad9e491ff97fa75d71b09428/0_0_2936_1883/master/2936.jpg?width=1300&quality=45&auto=format&fit=max&dpr=2&s=3976d5b5f290d5bf02f5737a1060acab","width":2600},{"src":"https://i.guim.co.uk/img/media/2885734ab295a11aad9e491ff97fa75d71b09428/0_0_2936_1883/master/2936.jpg?width=1140&quality=85&auto=format&fit=max&s=0686a506bc8797f48e24a68f28f5ad03″,"width":1140},{"src":"https://i.guim.co.uk/img/media/2885734ab295a11aad9e491ff97fa75d71b09428/0_0_2936_1883/master/2936.jpg?width=1140&quality=45&auto=format&fit=max&dpr=2&s=692c44aee0a52537280873b0045b51b2″,"width":2280},{"src":"https://i.guim.co.uk/img/media/2885734ab295a11aad9e491ff97fa75d71b09428/0_0_2936_1883/master/2936.jpg?width=980&quality=85&auto=format&fit=max&s=ae488ad7d755220ceffab16329f8c007″,"width":980},{"src":"https://i.guim.co.uk/img/media/2885734ab295a11aad9e491ff97fa75d71b09428/0_0_2936_1883/master/2936.jpg?width=980&quality=45&auto=format&fit=max&dpr=2&s=4b66ad14e2dd36d454a352d8f31269ac","width":1960},{"src":"https://i.guim.co.uk/img/media/2885734ab295a11aad9e491ff97fa75d71b09428/0_0_2936_1883/master/2936.jpg?width=740&quality=85&auto=format&fit=max&s=e4653426a69511235815e9d6a5b1985c","width":740},{"src":"https://i.guim.co.uk/img/media/2885734ab295a11aad9e491ff97fa75d71b09428/0_0_2936_1883/master/2936.jpg?width=740&quality=45&auto=format&fit=max&dpr=2&s=a12b15175e7970a04be2878ff961c13b","width":1480},{"src":"https://i.guim.co.uk/img/media/2885734ab295a11aad9e491ff97fa75d71b09428/0_0_2936_1883/master/2936.jpg?width=660&quality=85&auto=format&fit=max&s=89c9a9f9df8cfc42dddfb791780de7f6″,"width":660},{"src":"https://i.guim.co.uk/img/media/2885734ab295a11aad9e491ff97fa75d71b09428/0_0_2936_1883/master/2936.jpg?width=660&quality=45&auto=format&fit=max&dpr=2&s=168a87e7ab9b9ae18867f4158a39c164″,"width":1320},{"src":"https://i.guim.co.uk/img/media/2885734ab295a11aad9e491ff97fa75d71b09428/0_0_2936_1883/master/2936.jpg?width=480&quality=85&auto=format&fit=max&s=6690704bcb01eefb9ca36d636c290546″,"width":480},{"src":"https://i.guim.co.uk/img/media/2885734ab295a11aad9e491ff97fa75d71b09428/0_0_2936_1883/master/2936.jpg?width=480&quality=45&auto=format&fit=max&dpr=2&s=335954e4967b462cc227de5147432422″,"width":960}]}],"elementId":"ed30552e-a30b-4190-a445-e1030d7ba832″}],"attributes":{"pinned":false,"keyEvent":true,"summary":false},"blockCreatedOn":1700596430000,"blockCreatedOnDisplay":"19.53 GMT","blockLastUpdated":1700597312000,"blockLastUpdatedDisplay":"20.08 GMT","blockFirstPublished":1700596506000,"blockFirstPublishedDisplay":"19.55 GMT","blockFirstPublishedDisplayNoTimezone":"19.55″,"title":"GOAL! Wales 1-0 Turkey (Williams 7)","contributors":[],"primaryDateLine":"Tue 21 Nov 2023 20.37 GMT","secondaryDateLine":"First published on Tue 21 Nov 2023 18.30 GMT"},{"id":"655cf92b8f0858ab7b6f1e8e","elements":[{"_type":"model.dotcomrendering.pageElements.TextBlockElement","html":"

Wales: Ward, Roberts, Lockyer, Davies, Rodon, Broadhead, Jordan James, Ampadu, Williams, Johnson, Wilson.
Subs: Cabango, Moore, Huggins, Sheehan, Cullen, Brooks, King, Daniel James, Morrell, Dasilva, Bradshaw, Hennessey.

","elementId":"bae318f4-83e4-4cad-8060-65eb30cf93c0″},{"_type":"model.dotcomrendering.pageElements.TextBlockElement","html":"

Turkey: Cakir, Kadioglu, Akaydin, Bardakci, Ozkacar, Yuksek, Sari, Omur, Salih Ozcan, Akturkoglu, Baris Yilmaz.
Subs: Celik, Yildiz, Bayindir, Kutlu, Yazici, Soyuncu, Kahveci, Ozdemir, Elmali, Kabak, Gunok, Ayhan.

","elementId":"7745122b-b839-49ee-9482-ef0fb2b7ef3c"},{"_type":"model.dotcomrendering.pageElements.TextBlockElement","html":"

Referee: Matej Jug (Slovenia).

","elementId":"4f9bc76b-e5ee-4185-b9b1-04a00209a7df"}],"attributes":{"pinned":false,"keyEvent":true,"summary":false},"blockCreatedOn":1700591915000,"blockCreatedOnDisplay":"18.38 GMT","blockLastUpdated":1700592940000,"blockLastUpdatedDisplay":"18.55 GMT","blockFirstPublished":1700592054000,"blockFirstPublishedDisplay":"18.40 GMT","blockFirstPublishedDisplayNoTimezone":"18.40″,"title":"The teams","contributors":[],"primaryDateLine":"Tue 21 Nov 2023 20.37 GMT","secondaryDateLine":"First published on Tue 21 Nov 2023 18.30 GMT"},{"id":"655c74b18f08b60d75282ac0″,"elements":[{"_type":"model.dotcomrendering.pageElements.TextBlockElement","html":"

On Saturday afternoon this happened …

","elementId":"2007e5f9-eeac-4838-96fc-4cc67f0ec9a6″},{"_type":"model.dotcomrendering.pageElements.RichLinkBlockElement","url":" 1-1 Wales: Euro 2024 qualifying – as it happened","prefix":"Related: ","role":"thumbnail","elementId":"456f342b-b75d-48e9-a765-cfd63af5ee06″},{"_type":"model.dotcomrendering.pageElements.TextBlockElement","html":"

… which means Wales have to beat Group C leaders Turkey tonight and hope Croatia slip up at home to Armenia. If the two results go their way, Y Dreigiau are off to Euro 2024. If they don't, Rob Page's men are play-off bound. Kick off at Cardiff City Stadium is at 7.45pm GMT. Mae ymlaen!

","elementId":"11f82249-c04d-42f4-9558-26aafb4fd91d"}],"attributes":{"pinned":false,"keyEvent":true,"summary":false},"blockCreatedOn":1700591400000,"blockCreatedOnDisplay":"18.30 GMT","blockLastUpdated":1700579776000,"blockLastUpdatedDisplay":"15.16 GMT","blockFirstPublished":1700591400000,"blockFirstPublishedDisplay":"18.30 GMT","blockFirstPublishedDisplayNoTimezone":"18.30″,"title":"Preamble","contributors":[],"primaryDateLine":"Tue 21 Nov 2023 20.37 GMT","secondaryDateLine":"First published on Tue 21 Nov 2023 18.30 GMT"}],"filterKeyEvents":false,"id":"key-events-carousel-mobile"}" config="{"renderingTarget":"Web","darkModeAvailable":false}">

Key events
HALF TIME: Wales 1-0 Turkey
Wales are doing all they can. Croatia, leading against Armenia, aren't playing ball. As things stand, it's Croatia and Wales who'll qualify automatically from Group D; Wales will be heading to the play-offs in March.
45 min +4: … ah no, Wilson dummies and Broadhead takes it instead. He sends it over everyone's head and out for a throw. That should be pretty much that for the first half.
45 min +3: Wilson nips in from the right flank and draws a clumsy foul from Özkacar. He'll get up and send this free kick into the box.
45 min +1: The news of that Croatian goal has sucked all of the air out of the stadium.
45 min: There will be four added minutes.
44 min: Wilson spins in the box and aims to thread a shot into the bottom left. Bayındır parries with great uncertainty, but claims at the second attempt. The effort isn't met with much cheer, though, as news filters through that Ante Budimir has given Croatia the lead against Armenia just before half time. As things now stand, Croatia will win the group and Wales will have to navigate the play-offs.
42 min: The first period of sustained Turkish possession nearly results in a goal. Ping, pass, probe. Then Özkacar crosses from the right. Yazıcı flicks on, and Aktürkoğlu blazes over from six yards. He should have hit the target at the very least. He probably should have scored.
40 min: Rodon ushers the ball out for a goal kick. Yimlaz clambers over his back and then falls on him deliberately. Rodon thinks about losing his rag, then decides against taking the bait. Turkey's frustration is betraying them.
38 min: Ward fizzes a long pass wide left. Davies heads on for Williams, and he's away down the wing. Turkey showing very little resistance right now. Fortunately for the visitors, Williams doesn't have anyone in support and the slick move fizzles out.
36 min: Aktürkoğlu tries to hook a right-wing cross goalwards. He only achieves a waft, and it's easy pickings for Ward, who has been a virtual bystander so far.
35 min: A Wales free kick near the centre circle. Wilson launches it long down the left. Davies gets on the end of it but can't direct a header across the face of goal. Out it goes for a goal kick.
34 min: Bayındır's first act is to punch Broadhead's corner clear. It's still goalless in Zagreb.
33 min: … and in addition to the enforced change, Vincenzo Montella makes a tactical one. Ömür makes way for Yazıcı.
32 min: Cakir is replaced by Altay Bayındır of Manchester United …
31 min: It appears the VAR check is over. No penalty. What a fiasco. Nobody knows anything any more. But before the corner can be taken, Cakir needs more treatment.
29 min: … and here they come again, Broadhead and Roberts combining down the right to win a corner. Wilson sends it deep. There's some head tennis. Johnson attempts to bring down the ball, waits for it to drop, and … is skittled from behind by Akaydin. The referee merely awards another corner, but surely VAR will take a look at this?! Akaydin shoved him over from behind and got nothing of the ball. Very odd.
28 min: Rodon sends a long pass down the right to Johnson, who tees up Wilson for … what? A run into the box? A shot? Wilson can't seem to make up his mind and dinks across for Williams instead, and the momentum is lost. But Wales are having an awful lot of joy down this right wing.
26 min: Johnson races down the right and enters the box. Akaydin slides in to concede a corner. Did he get more man than ball? He may well have done, you know. There was contact, though neither referee nor VAR shows an interest in awarding a penalty. Nothing comes of the resulting corner.
24 min: Turkey win their first corner of the evening. It's played back down the right flank for Sari, who attempts to find Özkacar on the other wing with a spectacular diagonal rake. Too spectacular, as it turns out. The ball flies away for a goal kick. Turkey have achieved very little in attack so far.
22 min: Brilliant work by Jordan James, who steals the ball from Özcan in midfield and feeds Wilson down the inside-right channel. Wilson reaches the edge of the penalty area only to lose out physically to Bardakcı. He wants a spot kick, but he's not even getting the foul. Johnson then clatters into Bardakcı, and follows that up by going nose to nose with the defender in the macho style. The referee comes across, tells Johnson to stop being so bloody daft, and books him.
20 min: Cakir goes down requiring some treatment. He'd been given something of a working-over by Wilson and Davies at that last corner, and on comes the trainer with his magic sponge. Thankfully he's OK to continue for now, though he's grimacing quite a lot.
18 min: It's still goalless in Zagreb between Croatia and Armenia. As things stand, Wales will qualify for Euro 2024 at Croatia's expense, level on points but with the head-to-head advantage.
16 min: Broadhead hits it long. Lockyer wins a header at the far post, sending the ball back across the face of goal. Davies prepares to hook home only for Akaydin to eyebrow out for another corner. A goal-saving intervention. Nothing comes of the second corner.
15 min: Williams and Broadhead combine nicely down the left. Kadıoğlu just about stops them making it into the box, but at the expense of a corner. Broadhead to take.
13 min: Wilson starts another attack with a first-time pass down the middle for Johnson, who back-flicks into the path of Broadhead. He dribbles in from the left and attempts to find Wilson, who had kept running down the right channel, with a diagonal pass. It's intercepted. Shame, because that would have been a picture-book goal.
11 min: Turkey have had 61 percent of possession so far … but it's Wales who have carried the most threat.
9 min: Ampadu comes through the back of Yilmaz, 30 yards out on the left. A chance for Turkey to respond quickly. But Sari's floated free kick is no good, and Broadhead is able to counter at pace down the right. He's not got enough support to keep the attack going, but this is seriously impressive stuff by Wales, who are clearly not in the mood to die wondering.
GOAL! Wales 1-0 Turkey (Williams 7)
They'll be more than happy with it now! Wilson turns into a little space down the middle and sprays a pass wide left for Williams, who drops a shoulder to stride infield. He opens up his body and steers an unstoppable curler into the bottom right! It's on!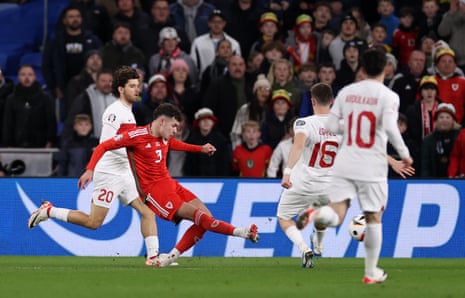 6 min: Roberts with another throw from the right. Turkey clear it easily enough. Wales will be happy enough with this start, though.
5 min: Kadıoğlu's loose ball allows Broadhead to storm down the left. He drifts infield and curls a low shot towards the bottom right. Cakir ushers it past the post. Decent effort, but it was covered.
4 min: James busies himself down the right but can't find anyone with his low cross. The ball deflects out for a throw. Thoughts of the goal against Armenia on Saturday as Roberts flings in long from the right. But Cakir comes through a crowded box to claim with confidence. Great keeping.
2 min: Cakir launches long down the right. The nippy Sari nearly gets the better of Rodon but the Wales left-back does well to stick to his opponent's shoulder and ensure he can't enter the box.
Wales get the ball rolling. Both sets of fans giving it plenty. The latest from Zagreb when we have it.
The teams line up in the tunnel. Turkish sub Çağlar Söyüncü comes over and embraces his former Leicester team-mate Danny Ward. Then Ben Davies leads his team out onto the pitch. A huge roar of anticipation at the Cardiff City Stadium. Wales wear their famous red, while Turkey sport first-choice white. Won't be too long now. Some patriotic close-harmonising, the swapping of pennants, and then we'll be off.
Rob Page speaks to S4C. "It's fresh legs … Kieffer [Moore] put such a big shift in … he's not getting many minutes … it's a bit unrealistic to ask him to do it again for 90 minutes … he'll definitely have an impact from the bench … we need energy … Turkey are top of the table for a reason and they've shown that against Germany with wholesale changes [they won 3-2 in a Berlin friendly on Saturday] … we have to respect that … we've proven at this stadium against top teams that we can compete … we can't worry about the other fixture … we can only control this so full focus will be on getting the win here."
The good news for Wales tonight: they've never lost to Turkey at home. They've welcomed the Crescent-Stars on three previous occasions, winning twice and drawing the other, and kept a clean sheet in every game. The bad news: Turkey have won their last four away matches, while Wales have lost three of their last six competitive home fixtures. History's not much use if you want to make an early call.
Pre-match reading. It was 30 years ago today, give or take. Oh Paul.
Wales make three changes to the starting line-up from the 1-1 draw in Armenia. Tom Lockyear replaces the suspended Chris Mepham, while Brennan Johnson and Nathan Broadhead come in for David Brooks and Kieffer Moore, both of whom drop to the bench.
Turkey captain Hakan Çalhanoğlu, of Internazionale, is missing for the visitors, who have already qualified for Euro 2024. Goalkeeper Uğurcan Çakır takes over pennant-swapping duties.
Wales: Ward, Roberts, Lockyer, Davies, Rodon, Broadhead, Jordan James, Ampadu, Williams, Johnson, Wilson.
Subs: Cabango, Moore, Huggins, Sheehan, Cullen, Brooks, King, Daniel James, Morrell, Dasilva, Bradshaw, Hennessey.
Turkey: Cakir, Kadioglu, Akaydin, Bardakci, Ozkacar, Yuksek, Sari, Omur, Salih Ozcan, Akturkoglu, Baris Yilmaz.
Subs: Celik, Yildiz, Bayindir, Kutlu, Yazici, Soyuncu, Kahveci, Ozdemir, Elmali, Kabak, Gunok, Ayhan.
Referee: Matej Jug (Slovenia).
On Saturday afternoon this happened …
… which means Wales have to beat Group C leaders Turkey tonight and hope Croatia slip up at home to Armenia. If the two results go their way, Y Dreigiau are off to Euro 2024. If they don't, Rob Page's men are play-off bound. Kick off at Cardiff City Stadium is at 7.45pm GMT. Mae ymlaen!


We update regularly World Latest Breaking Business News here. We update 2023-11-22 00:17:10 this news story from official website – https://www.theguardian.com/football/live/2023/nov/21/wales-v-turkey-euro-2024-qualifying-live."

World News Popular Search: #Wales #Turkey #Euro #qualifying #live

World News – Watch today's latest breaking news from World. We update all latest news headlines for Business, Money, Technology, Politics, Entertainment, Education, Science & health and more topics.

Read More Latest US News Headlines!
Latest International News Headlines!
USA | UK | Australia | Russia | Canada | New Zealand | India | Sweden | Switzerland | Argentina | Germany
Watch latest breaking news from U.S. and around the world. Check out today latest news live updates with videos, photos. Get current news stories from business, politics, sports, entertainment, tech, education and more.