Watch latest Google Australia Top Trends breaking news headlines online


Australia clinched the Cricket World Cup for the sixth time — denying hot favourite India its third title — after Travis Head's stunning 137 set up the historic win in front of 125,000 fans in Ahmedabad.
Key points:
Australia is home to more than 800,000 Indian-born people
Watching their birth nation lose to their adopted nation was a bittersweet experience for many
Despite dominating many formats of cricket, India has won only two ODI World Cup titles in 48 years
While the Narendra Modi Stadium went drearily quiet as Australia coasted to victory by six wickets with 42 balls remaining, WhatsApp groups amongst the Indian diaspora in Australia were buzzing with commentary.
"This [Cup] is coming home … just not sure which home," read a message in a WhatsApp group after the first innings.
"We need early wickets," read another after India was dismissed for a paltry 240, despite racing to 100 in just 15.4 overs.
The defeat — the host nation's first in a tournament it had dominated in favourable conditions — means India has won only one other World Cup since its inaugural crown under the inspirational Kapil Dev 40 years ago. Its last title came in 2011 when it co-hosted the tournament with Sri Lanka and Bangladesh.
Loading…
But India's home advantage is less significant than it was before the start of the annual Indian Premier League (IPL) in 2008. It means that Australia's stars — sought-after import players for one of 10 IPL franchises — are almost as familiar with Indian conditions as they are with the bouncy pitches and fast outfields of home. 
In the T20 format — where nations bat for 20 overs instead of 50 in the traditional World Cup — India has also underperformed, winning just one of eight tournaments and that came in the inaugural edition in 2007.
From couch-experts to ever-optimistic supporters, hundreds and thousands of Indian team supporters in Australia burned the midnight oil in Sunday night's final, rallying behind their team thousands of kilometres away.
Tapan Patel and a group of friends gathered at a suburban home in Melbourne to watch the World Cup's 13th final.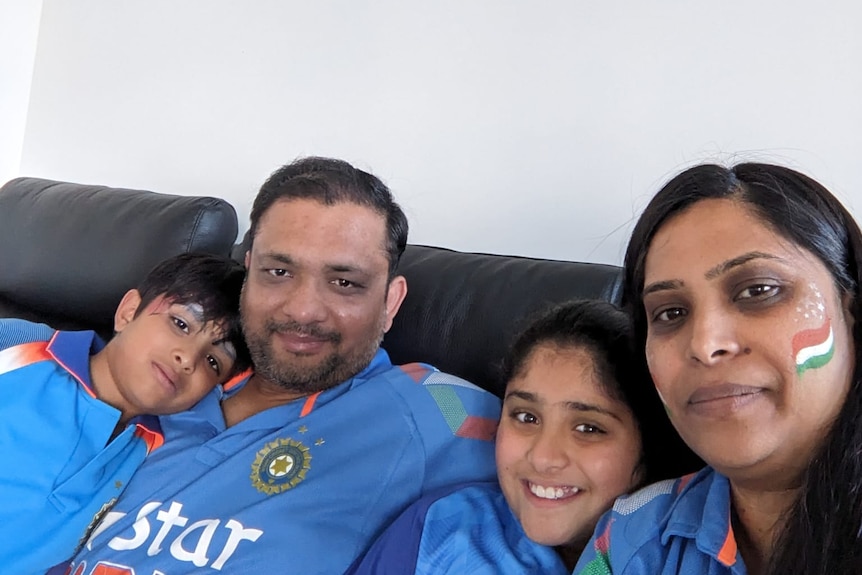 "All of us were quite positive. I was quite hopeful. Team India needed four to five wickets in the first 15 overs with a score of less than 100 and we could have won the match," Mr Patel said.
India did make early inroads as it tried to defend its disappointing total. When the dangerous David Warner and Mitch Marsh were dismissed cheaply — followed soon after by former captain Steve Smith — the subdued stadium roared and the Indian Australians cheered. At one stage, Australia was 3-47, with an inspired Jasprit Bumrah taking two of the wickets, raising hopes amongst the Indian diaspora.
"When we got those wickets, the mood was really positive in the room. It felt like we were on track," Mr Patel said.
Filled with pride and hope, Adeep Shah and his family too were glued to the TV, buoyed by India's unbeaten streak leading up to the final. Australia, by contrast, lost its opening matches to India — by six wickets in Chennai on October 8 — and South Africa.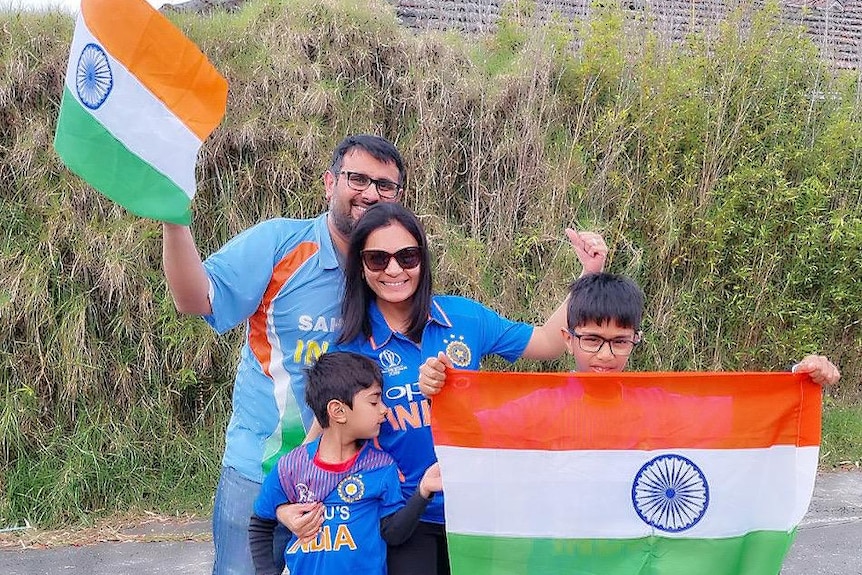 "I felt we could win right until the 25th over. We had got some early wickets, and had they kept that going, we would have made it… but then we failed to capitalise in the middle overs," said Mr Shah.
The Indian diaspora in Australia passionately backs Team India, filling stadiums nationwide whenever they play Down Under. Commentators, players, and cricket enthusiasts have frequently acknowledged their unwavering support and fervour for the team.
Attendees at the Melbourne Cricket Ground and other Australian stadiums, who have witnessed matches featuring India, can attest to the overwhelming presence of the nation's cricket fans.
Adorned in Team India jerseys and waving the tricolour flag, they create an unmatched, electric atmosphere, turning the place into "a sea of blue" that's hard to rival.
Last night, these fans watched the final from their homes, alongside family and friends.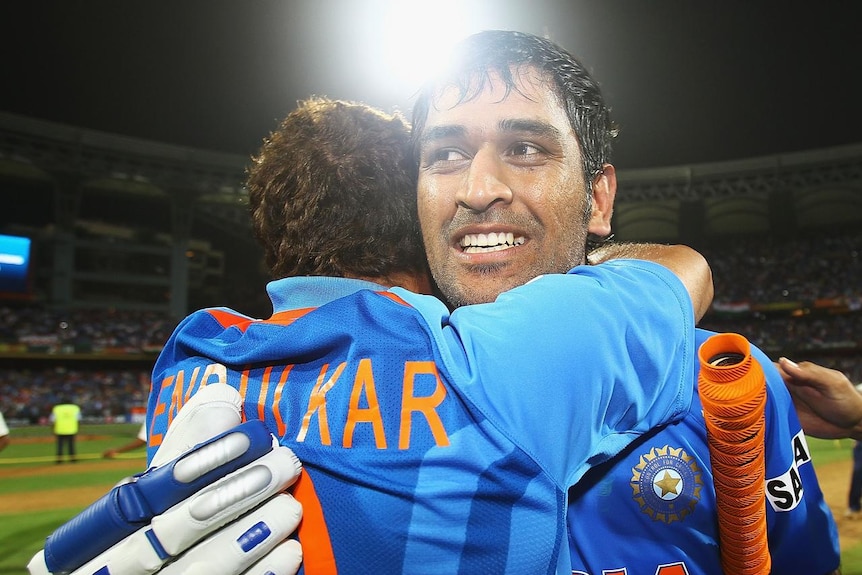 Excited, hopeful, and optimistic, many fans who stayed up to support their team began to switch off as it became apparent that Australia was on track to win, dimming their hopes of witnessing the 2023 side following in the footsteps of Kapil Dev's 1983 heroes, or the 2011 side, captained by Mahendra Singh Dhoni.
"I switched it off around 3:15am. The outcome was clear, and it was time to go to bed. I had a nine o'clock [meeting] to make it to," Mr Shah said.
Over 800,000 Indian-born people call Australia home today. Watching India play against Australia sometimes evokes a mix of emotions for many.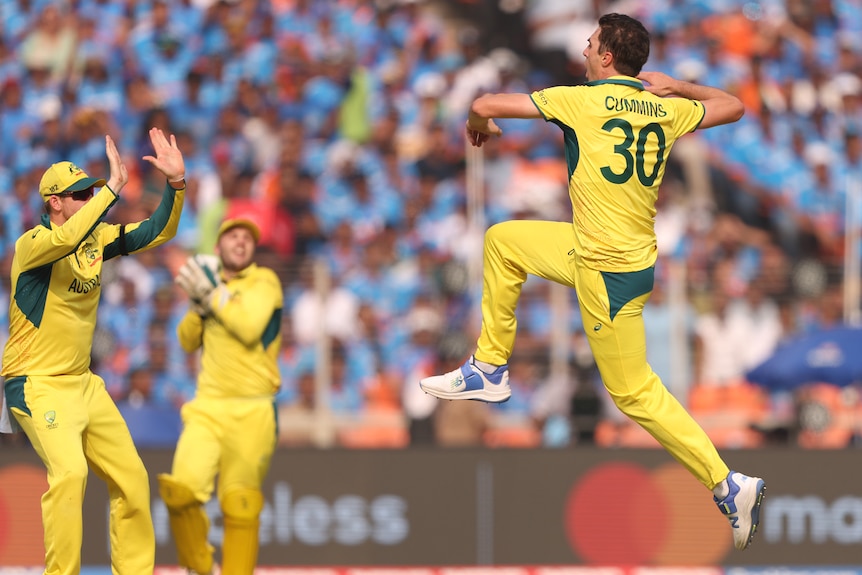 It might appear a clash of loyalties between the homeland and the adopted country, but as Mr Shah puts it, "it's about a team, not country".
"So many British citizens continue to support England. If you follow sports and barrack for a team, one stays loyal. The commitment is to the team," he said.
"I am very proud of Team India. It's not about last night alone. The way they have performed during the whole competition has been amazing."
With little sleep, mixed emotions, pride for Team India, and lingering happiness for Australia's win, many Indian cricket fans turned up for work on Monday morning, carrying both a heavy heart and a sense of pride.
"It was the first thing we discussed today. I congratulated my colleague on Australia's victory and he said how proud he was of the Indian team. That's the way it should be," he said.
This community experienced similarly mixed emotions just five months earlier in so-called red-ball cricket — the original form of the sport — when Australia defeated India in the final of the ICC World Test Championship in June, held at Lords in London.
However, the lines of allegiances have blurred over the years and not just because of expatriate Indians living for so long in Australia.
Indian and Australian stars have played shoulder-to-shoulder as teammates in the IPL for a decade and a half, which means the diaspora go from cheering for an Australian star like Travis Head or Pat Cummins with their favourite IPL team, before hoping they'll slip up at international level.


We update regularly World Latest Breaking Business News here. We update 2023-11-20 09:42:20 this news story from official website – https://www.abc.net.au/news/2023-11-20/australia-indian-diaspora-react-to-cricket-world-cup-final/103125076."

World News Popular Search: #blurry #eyes #high #hopes #Indian #cricket #fans #Australia #rollercoaster #ride #World #Cup #final

World News – Watch today's latest breaking news from World. We update all latest news headlines for Business, Money, Technology, Politics, Entertainment, Education, Science & health and more topics.

Read More Latest US News Headlines!
Latest International News Headlines!
USA | UK | Australia | Russia | Canada | New Zealand | India | Sweden | Switzerland | Argentina | Germany
Watch latest breaking news from U.S. and around the world. Check out today latest news live updates with videos, photos. Get current news stories from business, politics, sports, entertainment, tech, education and more.